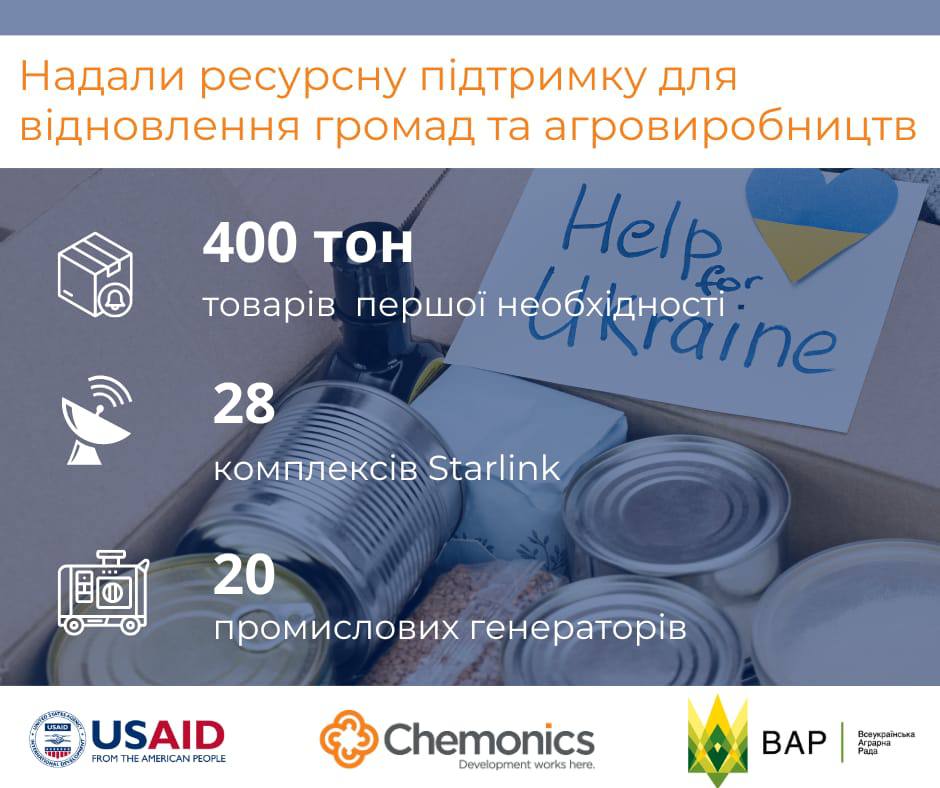 Residents of 17 war-affected regions of Ukraine received essential goods to restore community viability, as well as vegetable seeds for the spring sowing season and food security. In addition, about 600 agricultural producers received legal and advisory assistance on how to restore their farms after de-occupation or the end of hostilities. These are the results of a joint project to support food security and agricultural producers implemented by the USAID Agricultural and Rural Development Program (AGRO) and the Ukrainian Agri Council (UAC).
The project was active since the first days of the full-scale invasion. It covered material, informational and legal support to communities and agricultural producers in solving the most pressing issues. In particular, about 400 tons of food, medicines, hygiene products, etc. were delivered to the de-occupied communities, towns and villages that provided shelter to IDPs. To restore infrastructure and establish communication in the liberated areas, 28 Starlink systems, 5 fuel tanks and 20 powerful generators were delivered.
Behind the statistical reports are thousands of human stories. For example, it was thanks to this project that the first food aid was delivered to Chernihiv after a long encirclement, and water supply was established in the de-occupied communities of Kherson region. Operational logistics ensured food security and restoration of livelihoods in the de-occupied and frontline areas, and many agricultural enterprises managed to establish production processes and continue their agricultural activities during the war.
"Since the beginning of the war, the USAID AGRO Program and the UAC have been cooperating to support communities and restore agricultural production of affected agricultural producers. The first cargoes of aid that reached settlements of Chernihiv, Sumy, Kherson, and other regions immediately after the liberation were delivered under this project," said Dmytro Kohan, UAC Deputy Chairman.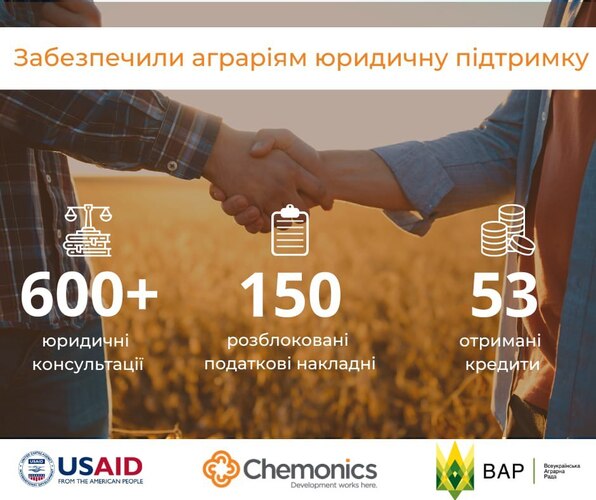 "Together with our partners, we managed to establish an operational logistics system and quickly come to the aid where it was needed most. An important result of the joint work of the UAC and the USAID AGRO Program was the establishment of systematic consulting support for agricultural producers on documenting war-related damage, booking employees, unblocking tax invoices, paying the minimum tax liability, lending, land reclamation reform, and other issues. In particular, the project developed an electronic cabinet for requesting reservations for agricultural producers liable for military service. This helped to simplify the procedure for submitting documents and speed up the processing of applications for reservations for employees of agricultural enterprises with military service. A consultation telephone line was also constantly operating to provide clarification on the issues that farmers faced in wartime. Thanks to the project's advisory support, 53 companies were able to obtain loans for the sowing season and continue their operations, and 150 agricultural companies managed to unblock tax invoices.
Another objective of the project was to provide residents of the de-occupied communities with vegetable seeds, as vegetable production has significantly decreased as a result of military aggression. Since the beginning of the war, about 35 tons of potato and 19 tons of vegetable seeds of 12 crops (bean, pea, beet, carrot, eggplant, onion, radish, watermelon, lettuce, cucumber, zucchini, broccoli) have been delivered to farmers and individual farmers in 118 communities of Ukraine for the sowing season.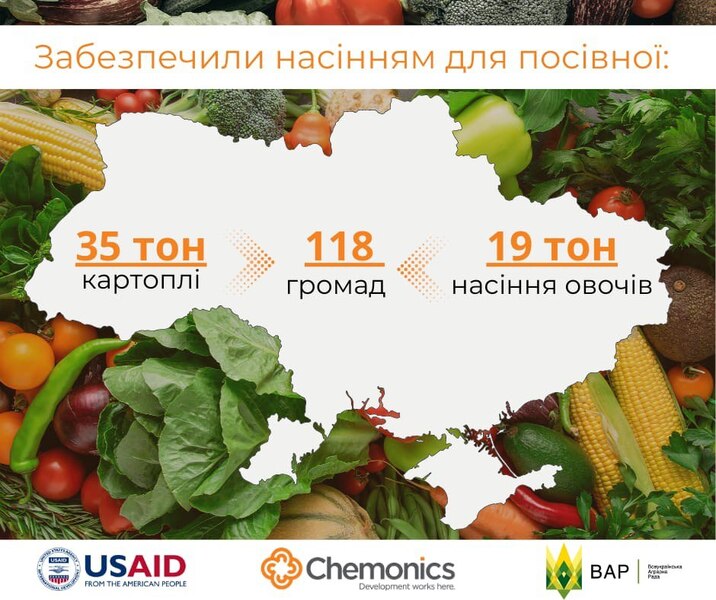 "With the beginning of spring, one of the most pressing issues was to provide communities with vegetable seeds, as their own harvest is an important component of community food security. Within the project, we managed to cover various areas of work, as we promptly responded to the requests of communities and farmers," said Dmytro Kohan.

Thanks to this assistance, more than 41,000 residents of 87 communities in Ukraine will be able to plant more than 1,800 hectares with vegetables and produce about 57,000 tons of crops during the spring sowing season of 2023.

"The territory of our community is large. We distributed the seeds we received among 29 settlements. A total of 1324 community residents received them. People are happy with it. We have already sown it, everything has sprouted. We are very grateful for the high-quality seed. This is a necessary and timely assistance. Now we will wait for the harvest," says Mariana Nikolaienko from the Esman village council of Sumy region.

During the project's implementation, we had to quickly solve a variety of tasks, from legal advice to the delivery of food and seeds. However, by working together, we managed to help many communities ensure food security and support internally displaced persons, and to help agricultural producers maintain and restore their businesses.

In order to continue this work, the USAID AGRO Program has announced another competition for funding to provide legal support to agricultural producers affected by the war. Its terms and conditions are available here.

Thursday, 18 May 2023