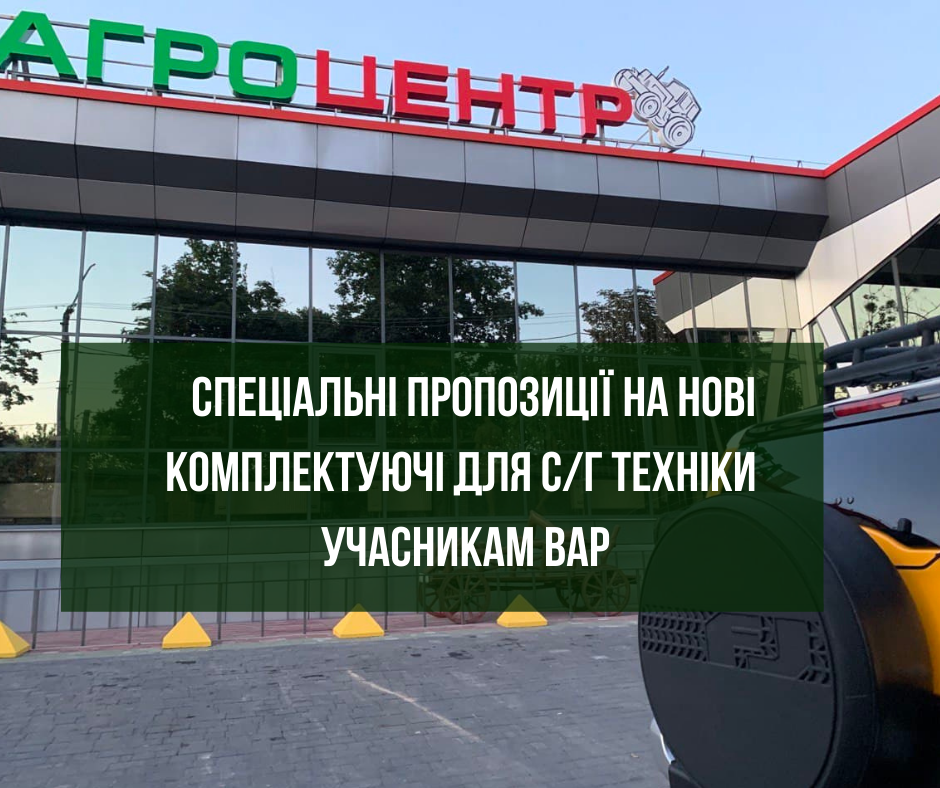 New components for agricultural machinery of Hungarian, Polish, Turkish and Spanish production are available for the UAC participants under special conditions: 20% discount and deferral of payment for up to 30 days. "Agrocenter", a partner company of the UAC, has started purchasing spare parts for the 2022 season.
Already available:
Hungarian-made spare parts for CLAAS combines;
hydraulic, motor, compressor oil, as well as lubricants of the Polish manufacturer ORLEN;
spare parts for plows and cultivators Lemken, Gregoire Besson, Kvernelend and others.
In the way:
products for reapers and mowers CAPELLO, Dominoni, CLAAS, JOHN DEERE, as well as mowers made by Wirax;
gear reducers, bushings, splined shafts, screws of Turkish and Spanish production for CLAAS and JOHN DEERE, NEW HOLLAND combines.
In addition, "Agrocenter" works hard to produce its own spare parts under the "HEAVY PARTS" brand: shafts, hubs, springs, cleaners.

We remind you that the UAC and "Agrocentre" have signed a memorandum of cooperation, according to which members of the UAC can buy goods from this company at special prices. The members of the association are offered a 30% discount on Agrocentre's own products, and a 20% discount on all other products. The UAC members will also have a deferral of payment for up to 30 days.

Base data:

"Agrocenter" manufactures make high-quality domestic products and imports agricultural products of the world's most famous brands. In particular, the company has its own production, which produces shafts, hubs, bushings, hitch apples, some types of springs and more. In total - 450 names to plows, cultivators, combines of foreign production. The products undergo heat, galvanic treating and painting. Supplied in original packaging under the registered brand "Hearvy Parts".

In addition to its own production, "Agrocenter" has 50,000 items of imported goods from Germany, Poland, Italy, Turkey, the Czech Republic, Hungary, Slovakia, Belarus and Greece. Available: belts, chains, bearings, gears, gearboxes, scythes, mowers, plows and spare parts for them, lubricants, light accessories, whips, shafts, crop feed elevators, etc.

Cooperation and delivery terms: the UAC participants will have a personal manager who will advise and process applications quickly. For efficiency, the goods can be delivered from warehouses in Rivne, Kyiv, Khmelnytsk and Cherkasy. Delivery by own transport, or national carriers is possible.

Form and options of payment: "Agrocenter" is on the general taxation system and is a VAT payer. Payment for the goods is made by non-cash payment, or cash on delivery via Nova Pay, or cash on the card of the entrepreneur.

You can get acquainted with the products on the website

Monday, 17 January 2022