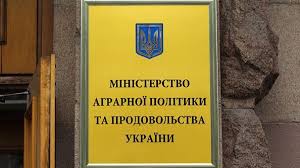 The UAC, which is a member of the All-Ukrainian Agrarian Forum (the UAF), together with other members of the Association "Ukrainian Club of Agrarian Business", PU "Agrarian Union of Ukraine", All-Ukrainian Association of Communities, Association "Union of Poultry Farmers of Ukraine" and "Ukrainian Agrarian Confederation") called for the restoration of the Ministry of Agrarian Policy and Food of Ukraine with full functionality and powers provided by the current Regulation on the Ministry of Agrarian Policy and Food of Ukraine, approved by the Cabinet of Ministers of Ukraine from 25.11.2015 № 1119.
This is stated in the appeal of the UAF to the Prime Minister of Ukraine Denys Shmyhal.
The appeal welcomes the government's decision to resume the work of the Ministry of Agrarian Policy, and that it is extremely important for business and civil society to have a separate specialized state authority at the national level, which will be responsible for making of the main directions of agricultural sector development, agricultural policy, increasing agricultural production and quality and food safety control, expansion of sale markets, consolidation of leading positions in world markets and integrated development of rural areas.
However, businesses are concerned about the information disseminated by some media about the plan for the distribution of powers between central executive bodies, specifically:
it is absolutely incomprehensible to entrust the Ministry of Economy with the authority to make and implement the state policy on agricultural development; formation and implementation of the state policy in the field of safety and certain indicators of food quality, coordination of scientific and research institutions in the agricultural sector;
no justification was provided for the need to transfer powers to the Ministry of Environmental Protection and Natural Resources for making of the state policy in the field of fisheries and forestry;
it is envisaged to assign to the Ministry of Development of Communities and Territories of Ukraine tasks on rural development, including the development of rural areas;
The UAF also notes that it is not clear in the current circumstances the lack of necessary influence to ensure control by the central government of the implementation of public policy at the level of regions, districts and local communities. These bodies do not have a unified structure with the relevant units that implement state policy in the field of agro-industrial production.

It is noted that the draft project of the new Regulation on the Ministry of Agrarian Policy and Food of Ukraine gives the relevant Ministry of Agriculture extremely limited powers and functions, which will lead to the creation in Ukraine of the so-called "power and chaos in the agro-industrial complex", which will prevent the effective activity of agri-food enterprises and the successful development of the agricultural sector as a whole.

The appeal emphasizes that all agricultural associations unanimously supported the decision to restore the Ministry of Agrarian Policy, but only with a full list of tasks and powers, which is reflected in the Regulation on the Ministry of Agrarian Policy and Food of Ukraine dated 25.11.2015 № 1119 including the formation of policies in the sectors of fisheries, water, forestry, food safety and quality and land relations.

Therefore, leaving the functions and powers of the Ministry of Agrarian Policy to the Ministry of Economy is absolutely unacceptable and is perceived by business negatively.

The UAF hopes that the government will listen to the agrarian community and complete the work on the restoration of the Ministry of Agrarian Policy and Food of Ukraine, which will ensure the formation of agricultural policy and the comprehensive development of the agro-industrial complex.

Thursday, 21 January 2021