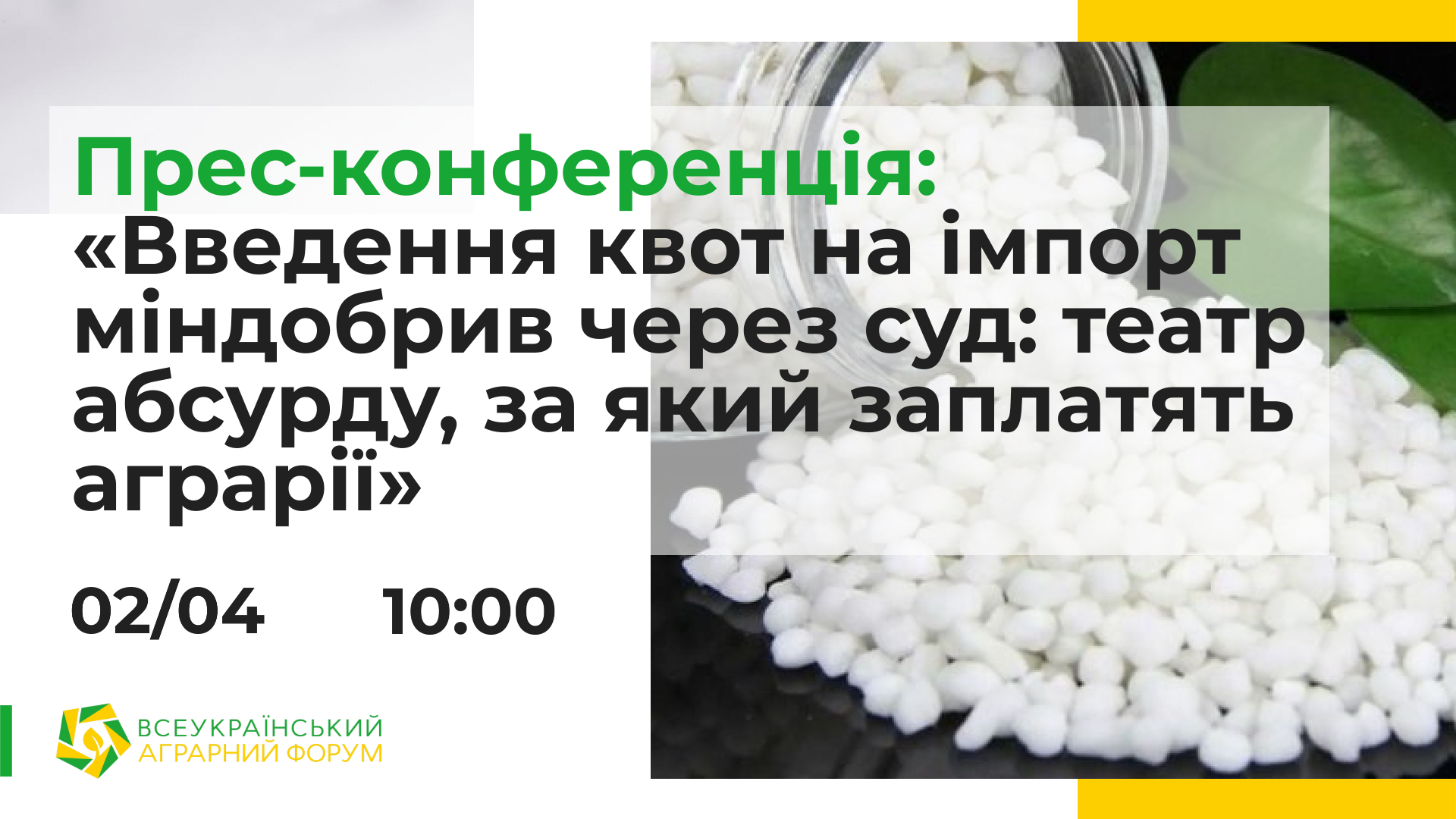 On April 2 at 10:00 AM in UNIAN a press conference will be held on the topic: "Introduction of quotas for the import of mineral fertilizers through the courts: a theater of absurdity, for which farmers will pay."
Organizer: The Ukrainian Agri Council
Speakers:
Didukh Maria, Director of the Ukrainian National Agrarian Forum.
Slaston Roman, General Director of the Ukrainian Agrarian Business Club Association;
Mykhailo Sokolov, Deputy Chairman of the Ukrainian Agri Council;
Gennadii Novikov, Chairman of the Agrarian Union of Ukraine;
Leonid Kozachenko, President of the Ukrainian Agrarian Confederation;
Oleh Nivievskii, Professor of the Kyiv School of Economics.
On March 31, the Kyiv District Administrative Court made a decision that revoked the June 22, 2020 decision of the Interdepartmental Commission on International Trade (ICIT) on the Inadequacy of Quotas in the Fertilizer Market and obliged the ICIT to introduce quotas on mineral fertilizer imports into Ukraine.

Thus, the court satisfied the claims of PJSC "Azot" and LLC "Khimvektor", which are parts of the "Ostchem" group of companies owned by Dmytro Firtash. The companies filed relevant lawsuits in July 2020 after the publication of the decision of the ICIT not to impose quotas on imports of mineral fertilizers.

It is important that the decisions of the Interdepartmental Commission on International Trade, adopted in June 2020 on the non-application of special measures for the import of fertilizers, are justified and fully meet the national interests of Ukraine. According to estimates by the Kyiv School of Economics, the total effect of the potential introduction of quotas on imports of some nitrogen and complex fertilizers will be negative and reduce the country's welfare (GDP) by an estimated from USD 118 to 123 million.

The agrarian community is very concerned and considers that the court decisions were taken without due regard to all the circumstances of the case and are illegal.

Location: Khreschatyk Street 4, conference hall.

The online broadcast will start at 10:00 on April 2 and will be available at the following links:

Additional questions can be asked by e-mail presszal@unian.net (with the subject of the letter "Questions for the press conference 02.04 at 10:00").

Preliminary accreditation of mass media by phone +38 097 75 94 868, or e-mail: litvinchuk@ucab.ua

Thursday, 1 April 2021