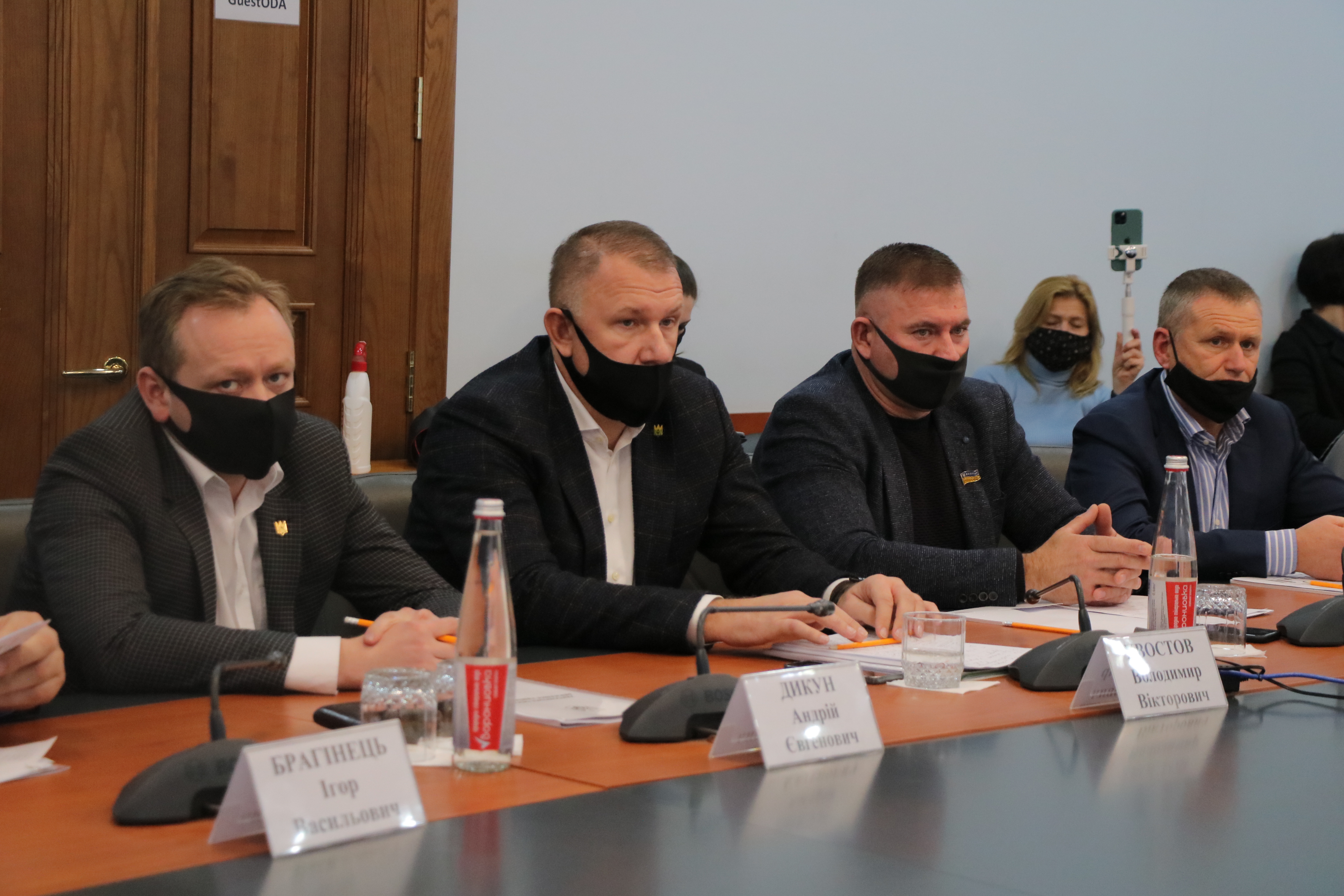 Today important issues before starting of the irrigation season in Kherson region, as well as the national strategy for land reclamation in Ukraine were discussed during a meeting on the development of agro-industrial complex in irrigated agriculture in southern Ukraine. Among participants was Minister of Agrarian Policy and Food Roman Leshchenko, Chairman of the State Water Agency Valentyn Shlikhta, Head of the Kherson Regional State Administration Serhiy Kozyr, Head of the Kherson Regional Council Oleksandr Samoilenko, Chairman of the UAC Andrii Dykun, Head of the Water Users' Association Volodymyr Khvostov, farmers who use water from the Kherson region, Peoples' Deputies Pavlo Pavlish and Ivanov Volodymyr.
Minister of Agrarian Policy and Food of Ukraine Roman Leshchenko mentioned that the national strategy for irrigation system development in Ukraine had the unprecedented support of President Volodymyr Zelensky and Prime Minister Denys Shmyhal. He noted that the Ministry faced three tasks to develop irrigation system: to resolve the issue at the legislative, institutional and financial levels.
"We clearly understand that the southern part of Ukraine will not be able to give that impetus to the development and growth of gross production without the provision of water resources. Kherson region is a leader in terms of the amount of relevant "active" infrastructure that is used by farmers, it is very important for us to discuss current problems with farmers in the region," the Minister said.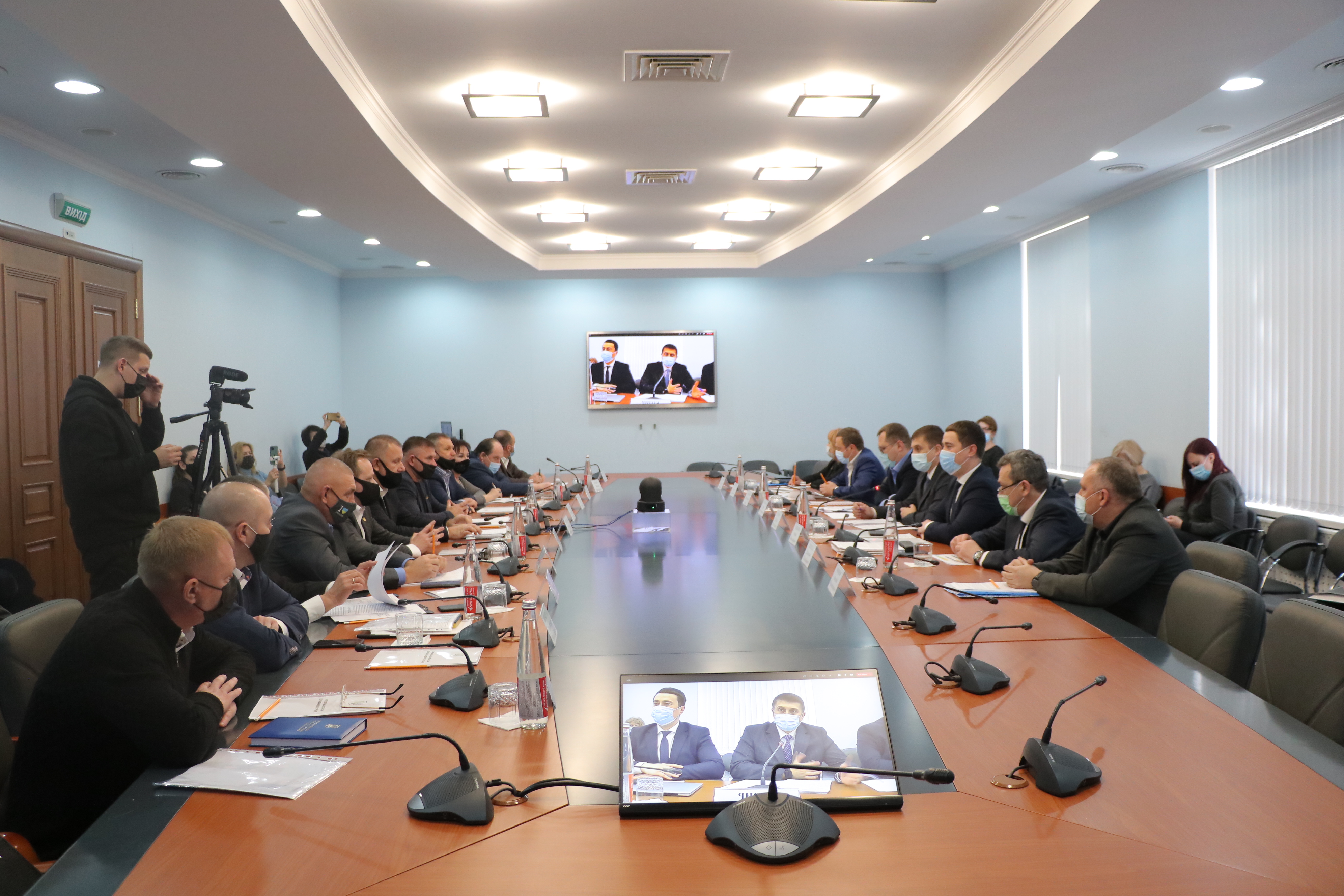 Head of the State Water Agency Valentyn Shlikhta noted that Ukraine had a real chance to revive the irrigation industry. The head of the department focused on two issues that concerned water users the most - the quality of services and tariff formation. Valentyn Schlichta mentioned that approaches to water pricing for field irrigation had to be transparent and clear. He also focused on the importance of dialogue and cooperation with farmers.

"We receive a lot of help from water users - a lot of suggestions to improve the work, information on the detection of unfair work in the fields of our employees, inefficient use of funds. The most important factor that will help us to improve our service is an active dialogue between our customers and us. Here I want to mention the UAC as an organization that provides constructive proposals. Therefore, we are happy to hold a dialogue and are ready to speak with all water users in order to find ways to improve our work," Valentyn Shlikhta said.

The UAC member and Chairman of the Water Users' Association Volodymyr Khvostov thanked the Minister of Agriculture and the Head of the State Water Agency for their systematic support of the draft law on the WUA and expressed hope that the document would be introduced in the session hall as soon as possible. He also talked about the issues that concerned farmers of Kherson region the most before the beginning of irrigation season.

"First of all, we are interested in the current state of tenders for the electricity purchase. We enter the irrigation season with a universal tariff, but this price difference is about UAH 0.4-0.5 per kilowatt. In addition, the loss of these funds per 1 kilowatt is unacceptable. There was also a problem with the transition to the night rate. It is solved at the technical level, many data processing nodes were installed, but now there is a problem how to use it effectively. To switch to the night rate, you need a separate contract for those who want to water at night. There is also another issue that worries everyone - the appointment of the Head of the Basin Water Resources Department. And we are still waiting for an audit of the economic activity of the district water management department in order to establish an economically justified tariff for the services of water management organizations," Khvostov said.

At the same time, the UAC participant Serhii Rybalko voiced the position of water users regarding the water tariff: farmers did not see the possibility of raising the water price that year until the moment of the audit. At the same time, farmers are ready to take the responsibility to increase the amount of water consumed.

In order for water tariffs for irrigation to remain the same for all agrarians-water users of Kherson region this year, Chairman of the UAC Andrii Dykun offered to join all willing agricultural producers to sign a memorandum on a new format of cooperation with the State Water Agency.

"In a productive dialogue with the State Water Agency, we managed to defend the position of farmers participating in the UAC and leave unchanged water tariffs until a full audit of their formation. For our part, we are obliged to increase the amount of used water by 10%. We invite all farmers who work in Kherson region and use water for irrigation to join us. The Kherson Regional State Administration has an agricultural department. We will pass the memorandum and ask for their assistance in signing it by all farmers who use irrigation in their activities," Andrii Dykun said.

Thursday, 8 April 2021